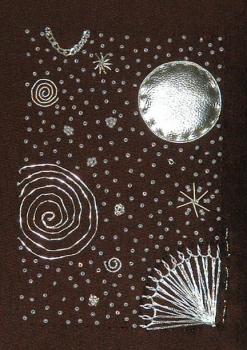 Starbright

After a course in Modern Goldwork with Tracy Franklin, I decided to work an original piece using the techniques I had learnt.

A dark brown material backed with calico was the base and silver pearl purl, purl, flatworm, and check purl and sliver kid were used for the motifs, finished with silver beads scattered randomly over the background.

This abstract piece was based on the idea of a circle, and from there on creating a pleasing balance of pattern densities.


Collection of Mr and Mrs David Bastiman.