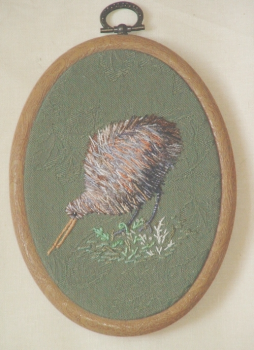 Kiwi in Stumpwork

The kiwi was an essay in stumpwork, which I had heard of and read about, but never actually seen. The base material is a piece of cotton damask furnishing material, and the kiwi is worked entirely in shaded silk thread.

The stitches were worked in several layers to give the slightly raggy effect of the bird's plumage, with several layers worked separately on the slip which was padded to make the body. The legs and beak were satin-stitched densely over strong cotton foundation threads, and the foliage around the feet includes french knots, straight stitches, and wheatear stitch.

A single black bead provides the kiwi's eye.