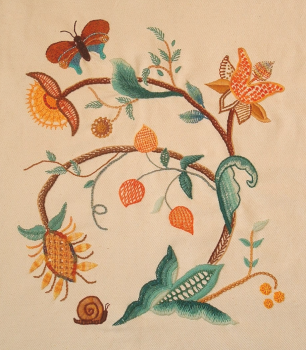 Jacobean Firescreen

This was a design that would give me the chance to play with different stitch textures so I looked for ideas and shapes with a crewelwork feel.

I was also seeking the opportunity to use a variety of textures and types of thread - soft cotton, pearl cotton, wool and rayon. To keep some sort of order and unity in the design I worked the leaves in shades of teal and the flowers and fruits in shades of yellow, orange and brown.

The use of families of stitches in the large primary motifs also contributes to the sense of the design, providing a living sampler which reminds me of stitches I enjoyed working.