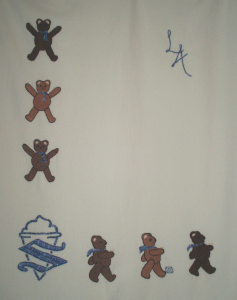 Frolicking Teddies

This Cot Blanket was designed as a Christening gift.

In the lower left hand corner is the logo of the family firm, while in the upper right hand corner are the child's initials. The logo is worked primarily in Braid Stitch to give a strong, ornate effect. The initials are in Heavy Chain Stitch, which produces a smooth, heavy line.

The Teddies are worked in wool, using primarily long and short stitch. All the other embroidery uses a variegated pearl cotton. The base material is cashmere blanketing, and the Blanket is lined with silk.



Collection of Mr and Mrs Vincent Sivori.