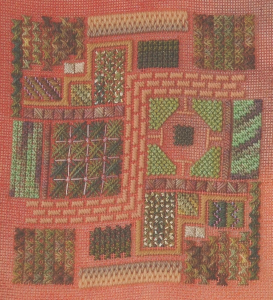 Abstract Garden

The starting point here was the idea of using the canvas as a background, rather than covering it entirely.

The first element was the simple path in expanded brick stitch, worked in wool. This provided the "spine" of the Garden. The rest of the panel was then built up a pattern of varying stitches and threads. There was no predetermined idea, simply the aim of keeping a sense of balance and rhythm in the pattern densities.

The choices of threads and stitches were made to provide the right elements of punctuation in the flow of the pattern. Static patterns such as brick stitch contrast with more flowing crossing patters like the hourglass stitch.